Posted by hockeyfreak | 9 Sep, 2006
Färjestad won Nordic Trophy 2006 by beating Kärpät in the final 5-1
(2-0,1-0,2-1).First goal came already after 12 seconds!
4.000 people saw the game in Löfbergs Lila Arena.


Ain't nothing stopping these guys huh...
Congrats Färjestad!!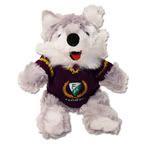 Picture from FärjestadsBK (Shop) till you drop lol.
Andra bloggar om: hockey, Nordic Trophy, Färjestad